Submitted to the Fellowship Google Group, by Glenda Buda:
A few years ago I was serving as First Reader and I was praying each week as to how  to "be" the Christ in my church community. How could I be a better foot-washer:-)
The Bible reminds us, in several passages, that we each have unique talents to contribute to the greater good. One of my gifts, one of the unique ways that I could express support and love for my community, was in my ability to serve as "hostess."
I noticed that there were several individuals who had gotten out of the "habit" of coming on Wednesday evenings. Yet, I would see them if it was more of a "social" gathering. My husband and I live about 10 minutes from church, we have a large home that accommodates groups well and hosting comes very naturally to us. So, I offered those natural gifts from God as a way of doing my part to embrace Wednesday Evenings  and as a way to put arms around each person in our church community.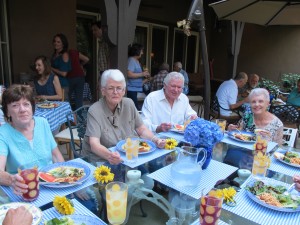 I found that instead of offering an invite way in-advance, it was nice to be a bit more casual and spontaneous and see who could come. Especially being Reader with the joy of listening and planning for the Readings on Wednesday, i allowed for my own flexibility and when it seemed I had "open" space it worked best for me to email the group Sunday night before the Wednesday. I offered to provide the entrée (Lasagna or spaghetti – any hearty dish that can be made ahead…or even frozen, so that the "work" would be kept to a minimum for me as Practitioner and Reader, at the time. I also provided the beverages and then invited the others to fill-in with salads, desserts, fruit, bread and Parmesan cheese:-)
Our Wednesday meetings begin at 7:30 and I found that starting the potluck promptly at 5:30 gives us plenty of time to eat and love on one another:-)
Then about 7:15 (unless someone is serving in church) we all leave for church and have a great sense of oneness of purpose and support.
When I Read, I would leave ahead of everyone else and arrive at church about a half hour or so before the service to quietly set up.
And, just a side note of logistics here…we have a pretty good size membership…so, I divide it up in about thirds…and simply rotate throughout the membership over a period of time…some overlapping occurring each time. I'm kind of formal and have lovely dishes and linens so I invite the amount I can offer chairs for and support in all those recyclable materials-HA!  But, anyone could use plastic and paper. This is just us:-) It's the Love that counts, NOT the presentation.
Now, what it is doing for the members:
It's hard to speak for everyone…but the responses are  overwhelmingly heartfelt expressions of feeling cared for, loved, included, united, beloved…more KNOWN…if I can put it that way. The members (and non-members)  feel like a special family.
There's a greater sense of intimacy that seems to open people up to asking for support, getting them more involved, making them feel more "committed". They are not just numbers on a roster….this interaction seems to prompt thoughts ( then feelings…feelings come from thoughts, actually:-) of loyalty..not in an obligatory sense ( from the outside) but in a deeply, loving, connected sense from the Christ within. This seems to help prompt a "face-to-face" relationship among church members.
That "face-to-face" is important because it's in that Christly view –so focused- so "face to face" with God, that we see and feel the Christ among us, within us, as The Holy Ghost. That is the transformation that serves  and heals.
Now, that Holy Ghost is not dependent on food, or human gatherings…but, because The Holy Ghost is actively working among us…it may appear as the call to have a supper together before Wednesday, sometimes:-) This is simply one kind of opportunity to be witness to what that Holy Ghost does!