Several members of the Church Alive community participated in this year's Burning Man event in Nevada over Labor Day. Anna Lisa Kronman writes up a beautiful post about her experience of learning about a deeper meaning of "church". She writes: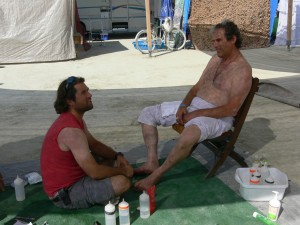 A unique element of Burning Man is its gift-based, rather than consumer-based economy….
Everyone that comes is expected to give something.  Also part of this culture: extraordinary creativity, art, loud music, a markedly friendly and open/permissive atmosphere, and whimsical clothing (or sometimes none.)
A group of people who love Christian Science felt there was a good reason to be a presence in this city.  We came to wash feet.
We hadn't specifically set out to "do church" there at Burning Man.  We had planned to lovingly embrace that city of lively seekers by actively seeing their spiritual worthiness as we washed dust from their feet.  What a surprise that in doing so, we discovered we were in the middle of church!
Read her whole post here: http://annalisakronmancs.sharethepractice.org/2013/10/22/surprise-church-at-burning-man/