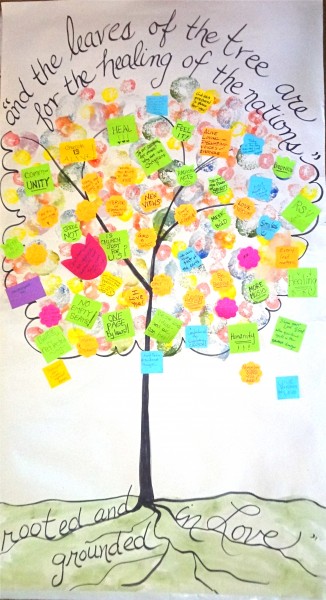 Ideas shared by Summit participants on our Church Alive Post It Trees:
"and the leaves of the Tree are for the healing of the nations…" *
Christian Science is the true Christianity that Jesus lived.
Prayers in churches: affirming what is real and true!
All the branch churches will blossom with the help of every "ray of sunlight and drop of rain."
Christ healing: universal reality…calm, holy, healthy.
BE!
Informal church services!
Love is the Liberator
Love revels in the flowering of Truth.
Be BOLD !
God is ever-present ALL.
Be quiet, too.
I love God and He loves me.
We go to Church to give!
Expressing and living Love is RADICAL!
Goal: To be known as healers and those who love!
People will know you are my disciples by the love you show one to another!
Mary Baker Eddy claimed VICTORY upon the founding of our Church in the 19th Century!
ONLY Love!
Deep Roots: to reach the living waters of understanding.
Church IS alive!
comm-UNITY
BE Love and you'll SEE Love.
Share your love for God when you think you are in the greatest danger.
Humanity!!
Remember who you ARE!
We are LOVE's ideas and we CAN HEAL!
More MUSIC!
Be a Bridge!
Step OUT of gossip!
Is Church just for US?
One Page Bylaws
Fervor in speaking the Word
No empty seats
Judge Not!
Time4Thinkers
Stand porter at the door of thought.
I love you!
Alive loving and including the voices of everyone
Today is the Day the Lord has made.
BOLDNESS
Trust in the power of Spirit.
Never too busy to be kind
Wake Up!
Christian Science = the ORIGINAL Christianity that
Jesus lived
Let the Spirit move you through your life.
Is our compassion for others? Why are we Christians?
HEAL!
God has prepared a place for you.
Radical Acts: The Game
False law should be trampled underfoot!
Wednesday Church: A Happy Meeting of Friends!
It's like….REAL !
CSers love one another
Prayer strengthened with practical service
Preach the Gospel to every creature….Love God's earth!
Live your vision of Church
Don't just say it: DO IT!
Practice brings out the perfection within!
FEAR not!
Love alone is Life
*In the midst of the street of it, and on either side of the river,
was there the tree of life, which bare twelve manner of fruits,
and yielded her fruit every month: and the leaves of the tree
were for the healing of the nations. –Rev. 22:2